Home » Events, Food, Teaching Garden
Community Gardens: Fundraising Event
On Sunday 29 September 2019 from 12.30pm the Old North Stables will be holding an afternoon of food and entertainment.
We will begin with an open air cookery demonstration, in which Steve Dent, aka the Circus Gardener, assisted by Shirley Smith, a professional caterer (and Steve's sister) will be creating a delicious Keralan-style pumpkin and lentil curry with some of the produce we have grown at the Old North Stables Community Gardens.
Lunch will be followed by a unique piece of entertainment – "Perilous Journey" involving original music and beautiful rants to entertain, enlighten and point the way to a better world. Performed by Terry Hughes, a composer, singer and multi-instrumentalist and Steve Dent, an award-winning food writer, Perilous Journey will guide you gently on a unique journey through the perils of climate change, food waste, land ownership, bad science, junk food, sustainability and some of the other huge challenges of our time.
Places are limited, so to book your seat by emailing transitionworcester@gmail.com
Suggested donation £5.
The Circus Gardener's Kitchen: seasonal vegetarian cooking with a side helping of food politics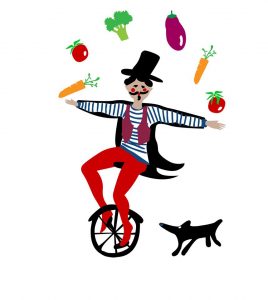 http://circusgardener.com