We have had the first session of our Repair cafe and would like to share a few facts, figures and thoughts with you
Thirty repair forms were filled in – generally one item per sheet, although some people brought several things (e.g. shears, secateurs, loppers for sharpening).
Of these 30, 21 were fixed, 1 was temporarily fixed, 1 was partially fixed (the cuckoo calls once per hour rather than not at all), 4 people received useful advice, two items were beyond repair, and one item has been taken away by a repairer to look at more closely.
We recieved some great comments from the repairees, including: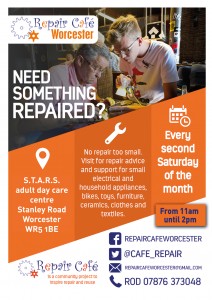 "Excellent advice with offer of help if required".
"Brilliant! Thank you Jonathan!"
"Really helpful enjoyable session".
"Really helpful, nice ladies, lovely social occasion".
"Diagnosis was impressively analytical giving me confidence in the advice".
"Gill was very friendly and helpful. She fixed my two year old's giraffe's eye. She has made her day".
"Jake did really well. Very polite and a good carpenter. I enjoyed the experience and so will my daughter whose table it is. Thank you".
"First class service".
"Lots of people had a go at fixing it and after lots of investigation the problem was found and fixed. Thanks a lot".
"Great tool sharpening and tweaking service. Really useful. Will tell others".
I think we can consider this a really fantastic start! Many things worked very well, although there a few things we can probably tweak a bit for next time.
Please do let us know what you think worked well, and what could be done better.
The repair cafe will run every second Saturday of the Month at S.T.A.R.S. Adult Day Care Centre in Stanley Road from 11am – 2pm.
If you have something to repair or need some advice on an item you have (or just want to have a nice drink with a piece of cake) you are welcome to visit us.