Home » Events, Food
Seed Swap, 16th March 2019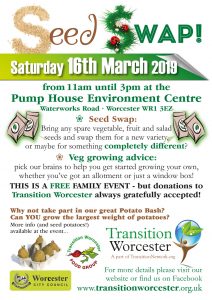 This year's Seed Swap event will take place on Saturday 16th March from 11am – 3pm. This year the event will be at the Pump House Environment Centre in Waterworks Road. Please note this is a different location from other years!
Bring your spare vegetable, fruit and salad seeds and swap them for a new variety or something completely different. As well as the seed swap, we'll be launching our 2019 Potato Bash, and will have volunteers on hand to provide tips on how to Grow Your Own. As always, we like to start the event with a good "kitty" of seeds, so if you have seeds that you want to donate before the event, these can be dropped off at the Pump House Environment Centre. Alternatively, please email us if you have seeds to swap but can't make the day.
This is a great event to volunteer at, so if you can spare a little time, please do come along and help us out!