Home » Events, Recycling & Waste
Repair Cafe Worcester – 14th May 2016 – STARS Adult Day Care Centre, Stanley Road – 11am to 2pm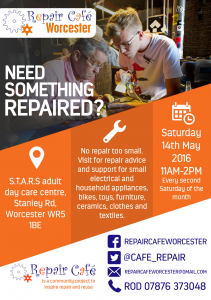 Do you need something repaired? If you do, you'll be wanting to come to one of our Repair Cafe sessions.
We are pleased to announce that the first Repair Cafe will be held on 14th May 2016, at STARS Adult Day Care Centre on Stanley Road in Worcester (WR5 1BE).
Thereafter, the Repair Cafe will take place on the second Saturday of each month at STARS.
A Repair Cafe is a regular community event (typically monthly) where people can come with broken items, and have them repaired. Teas/coffees and cakes are normally available too, adding a sense of sociability to the event.
We have built up a team of volunteer repairers, and we will be able to repair electrical items, small items of furniture, clothes and textiles, toys, crockery – many regular household items. We don't promise to repair everything – simply because some things will be beyond repair – but we will do our best within the time available.
Part of the point of the Repair Cafe is that people who bring items learn how to mend things too. So, not only is a Repair Cafe a practical response to issues around landfill, but also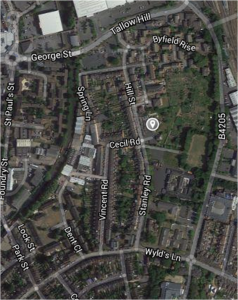 a social event and a learning experience at the same time.
Please do print out and display our "Need Something Repaired?" poster somewhere if you can. [Right Click and save or copy image]. Thanks go to Tiffany from Worcester Polytechnic Institute (Worcester, MA) for designing our poster.
You can find out more about Repair Cafes on the website: http://repaircafe.org/en/