Home » Events, Food
Two Foodie Events from TEV in June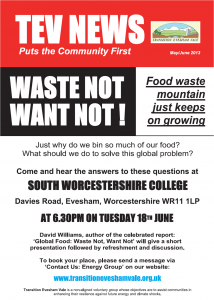 There are two food-related Transition Evesham Vale events coming up in June.
First off, on Tuesday 18 June at 6:30pm,  TEV is hosting a talk entitled 'Waste Not Want Not – the global food scandal' at South Worcestershire College.  The speaker is David Williams of Institute Of Mechanical Engineers and one of the authors of the report.  This Promises to be an interesting and challenging evening. Please see the Waste Not Want Not poster and schedule
Transition Evesham Vale is hosting its third Vale First – Local Food Festival on Sunday, 23 June at All Saints Churchyard, Evesham. According to TEV, the event promises to be bigger and better this year! The poster: Vale-First-2013.pdf
There will also be an opportunity to visit 'ImaGine' on 23 June – the TEV local community shop which will have its official opening on Saturday prior to the Festival.