Home » Events, Food, General
Apple Pressing Days
PLEASE NOTE these dates are for the 2015 apple pressing dates. For this year's dates please see the home page or visit our Facebook page.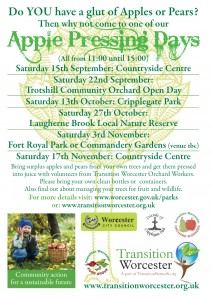 Are you expecting to have a glut of apples or pears this year and not sure what to do with them? Bring surplus apples and pears from your own trees and get them pressed into juice with volunteers from Transition Worcester Orchard Workers. Please bring your own clean bottles or containers.
These days have been really popular in the last couple of years, so do be prepared to have to wait a little while for us to get around to your fruit!
The dates and venues are as follows:
Saturday 15th September: Countryside Centre
Saturday 22nd September: Trotshill Community Orchard (part of the Orchard Open Day)
Saturday 13th October: Cripplegate Park
Saturday 27th October: Laugherne Brook Local Nature Reserve
Saturday 3rd November: Commandery Gardens
Saturday 17th November: Countryside Centre  Please note that this apple pressing day (Saturday 17th November) will now not take place, there are just not enough apples around this year! If you do have apples to be pressed, please do come along to one of the other days, you will be very welcome.
As well as getting your surplus apples and pears pressed, you will also have the opportunity to meet some of the people behind Transition Worcester and the Orchard Workers group and have a chat with us about our work. There will also be information available on managing your trees for fruit and wildlife.
For more information, see the TW Apple Pressing Days A4 Poster. If you can help us advertise these days, then please do so, using the poster linked.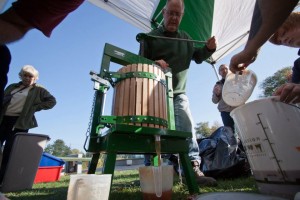 Pressing in action at Cripplegate Park during a Transition Orchard Workers Apple Pressing Day in October 2011