Home » Events, Food
Apple Pressing Dates for 2015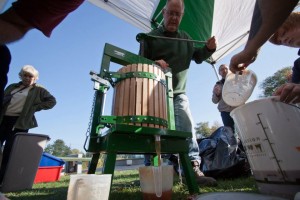 Yes indeed! We already have most of our Apple Pressing dates for 2015.
The dates and venues are:
Countryside Centre: Saturday 12th September
Pump House Environment Centre: Saturday 19th September
Green Farm at Crowle: Saturday 26th September
Croome Court (National Trust): Sunday 27th September
Westbury Street Gardens (with the Arboretum Residents Association): Saturday 3rd October
Cripplegate Park (near the Sons of Rest Building): Saturday 10th October
Trotshill Orchard: Saturday 17th October
The Commandery: Saturday 24th October
The Fold at Bransford: Sunday 25th October
Pump House Environment Centre: Saturday 31st October
Countryside Centre: Saturday 14th November
So those are the dates. Now let's hope the weather and conditions are good this year for setting a plentiful crop of fruit. Please note that  if you can't make one of these dates, or you want to have a go at running your own community pressing event, we have second set apple juicing equipment available for you to use.
There will be more details of the pressing events added later in the year.