Meeting and Events in 2009-10. For details of more recent events, please see our blog posts under the 'events' category.
Transition Talk
Transition Talk at Worcester College of Technology Robert addressed an A level tutor group on Wednesday 3 February on the implications of Peak Oil for the future of the city. Some 25 students were then asked to brainstorm possible outcomes for food, transport, shops and jobs. They will be going on to do follow up work based on measuring their carbon footprints.
Food Group Launch
Transition Worcester had a stall at the Swap Shop hall on Saturd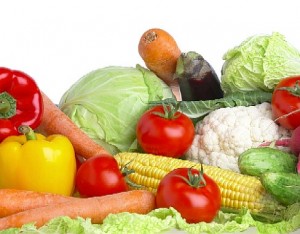 ay 16th January between 10am – 4pm.  This co-incided with our Food Group Launch.
More Fruit trees – Aconbury Orchard on Sunday 13th December
Another 5 apple trees and one pear tree went into the ground in this old perry orchard, part of open space managed by the city council.  There are some splendid old trees still surviving, but we were filling in the gaps.  After planting we went up to the viewpoint and admired the view out over Warndon to the countryside beyond.
Fruit Tree planting in Cherry Orchard Local Nature Reserve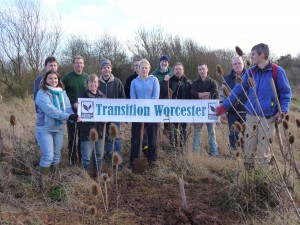 Saturday 5th  December was in National Tree Week, but also the day of the BBC Breathing Places challenge to beat the Guiness record for the number of trees planted in one hour at multiple locations all over the country.  Between 11am and noon, a bunch of us from TW planted five fruit trees kindly provided by Worcester City Counci.  Warwick Neale from the council supervised, gave an excellent pre-task briefing and the sun shone on us while we planted.
Fruit trees are powerful symbols for transition – enriching the biodiversity of the nature reserve, helping to build local food resilience, trapping CO2 as they grow, turning sunlight into fruit that needs no fossil fuel for transport.  Happy scrumping to future generations of children!
This was a fun event – watch the website – we will be planting more fruit trees in another city orchard later this winter.
Two Wheels are Better than Four
We held a 'Two Wheels are Better than Four' event at the Guildhall on the 26th presenting the benefits of cycling as a response to both climate change and peak oil. 20 people including people from Sustrans and CTC collaborated sharing plans to make cycling visible in Worcester in 2010.
Southside Branch, Worcester Labour Party 28 Oct 2009 7.30pm
Robert and Sally gave a transition talk and showed the video clip Peak Oil for Policymakers.   Discussion followed focussing on the implications for global trade and future energy supplies.  There was support for more frequent street markets to strengthen links with local food producers.
Screening of The Age of Stupid   26 Oct 2009 7.30pm – 9pm
Thanks to Worcester College of Technology we were able to offer this public screening free of charge.  The lecture theatre was full (some 80 people or so) and the film was well received and people left with details of Transition Worcester.  Donations left us with an income of just over £100 to put towards Transition Worcester activities.  It is hoped that in partnership with Worcester Greenpeace there will be further screenings of environmental films over the course of the next few months.  The evening ended with further informal discussions at The Plough.
350 Day of Action on Climate Change 24 Oct 2009 11am to 1pm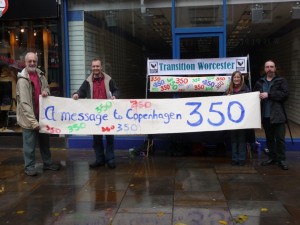 Margaret, Rod, Ray, Sally and Robert ran a street stall giving out fliers for our screening of the Age of Stupid.  It was intended to be an interactive event, with children being encouraged to paint a 350 banner but rain stopped play and seriously dampened our collective enthusiasm.  This was the happiest picture of the event!
Elsewhere in Crowngate a group of young people had a very successful Hands Up for Climate change event that caught the imagination of many passers by.  To watch a slide show of the fantastic response to this global campaign, with more than 5000 participating groups in more than 170 countries, go to the website www.350.org The pictures were flashed onto a giant screen in New York.
Transition Pershore 19 Oct 2009 7.30pm
Justin and Robert gave a presentation to the first formal meeting of this new group in Pershore Town Hall.  The talk was followed by discussion and planning for future meetings.
Worcester Alliance City Summit 2009 – 7 Oct 2009 at the Warndon Community Centre
We had a great opportunity to explain transition to some 80 delegates at the summit, thanks to the Summit organsiers and Brigit Strawbridge and her Big Green Bus. We used the screening room on the top deck to show a film about transition to three workshop sessions, followed by discussions of the issues raised. Justin, Ray and Robert helped to field the questions. We could have an important part to play in meeting some of the ambitious Alliance targets for 2010 – Worcester Forward identifies community building, transport, and climate change as key areas for action.
Gardening like a Womble! a talk on permaculture and gardening by Wade Muggleton, Senior Greenspace Officer, Worcestershire CC. Thursday 1 Oct 2009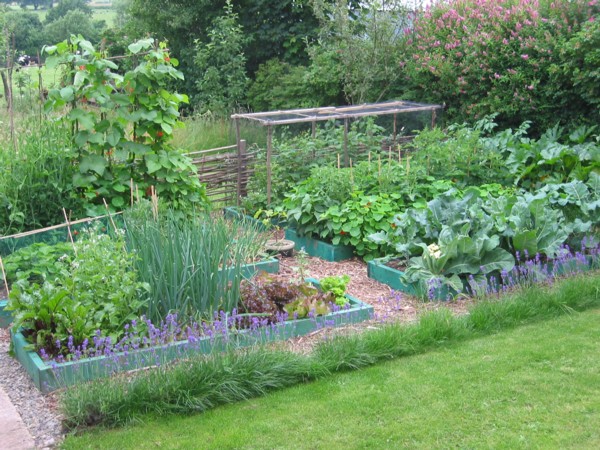 Some 40 people packed into the Guildhall Council Chamber to hear this local award winning gardener and writer share his own exploration of feeding his family from a small garden.
Wade has travelled extensively in New Zealand & Australia, visiting and working on organic farms and permaculture projects. He "walks his own talk", having spend the last 6 years developing his own small garden into an intensive food producing plot that contains 23 kinds of fruit and about 20 types of vegetables. "Grow It" magazine has just awarded him their coveted "plot of the year" award. He delighted us with a very down to earth presentation. As Wade said, "if we use small garden plots and allotments we reduce carbon emissions, waste, transport and pollution." He clearly has great talent as a skip raider – vegetables and fruits were flourishing in an amazing variety of containers and raised beds. So we do not have to rush off and spend lots of money – just enthusiasm to get started. A lively question and answer session was then followed by an impromptu discussion at the Plough. Altogether an enjoyable evening.
It is hope that this will be the first of many events focussing on food and transition.
St Andrew's Eco-congregation Award – Sunday 27 Sept 2009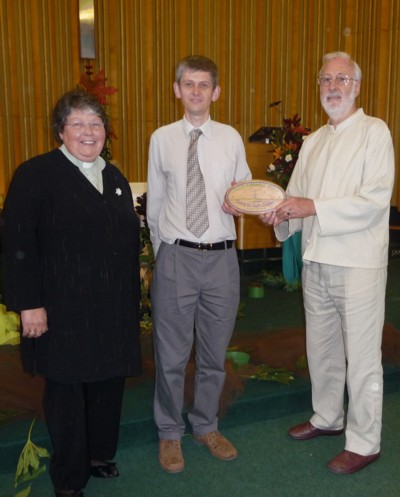 This congregation has been awarded their second three year award 2009-2011 as members of the Methodist Eco-congregations. They were commended because, among other things, they have installed efficient heating systems, grown local food in their gardens and been members of Transition Worcester. They were presented with their award at their Harvest Festival Service where the Minister, Revd Anne Smith and eco-congregation coordinator, Robert Lewin-Jones, were presented their award by Robert Wilkins of the Transition Worcester group.
Walking and Talking Transition – Sunday 20 Sept 2009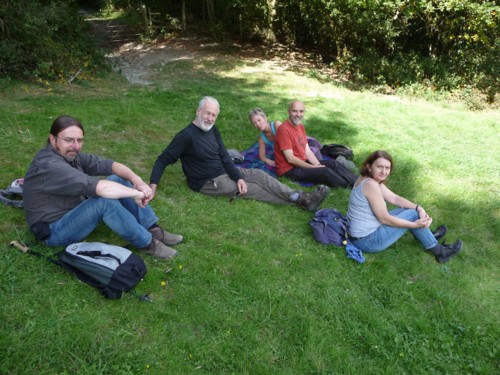 We rambled up through the Knapp and Papermill nature reserve onto the Suckley Hills and the Worcestershire Way – a lovely sunny autumn afternoon, the leaves beginning to turn and views away to the Malvern Hills from our picnic spot. Yes – we did talk a bit of transition, but a lot more besides.
Hanna and the Energy Slaves – Thursday 11 Sept 2009 7.30 – 9pm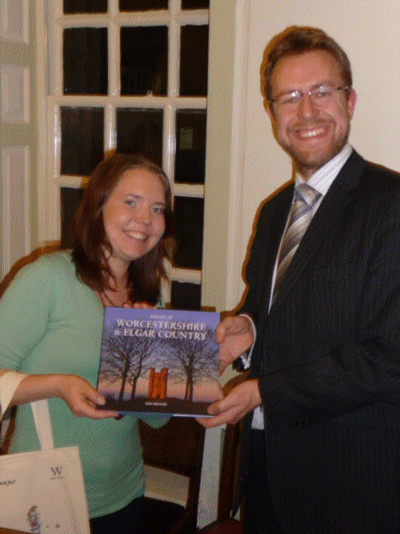 We met up for a final briefing from Hanna, who is shortly to finish her summer internship with Transition Worcester. She explained the material she has produced for use in schools and James Sommerville from Worcester City Council presented her with a book on Worcestershire with all our thanks. We wish her well as she goes on to do her Masters degree this autumn.
Transition Worcester Meeting – Thursday 27 August 2009 7.30 – 9pm
An important milestone – we agreed to change our name from One Planet Worcester to Transition Worcester so that we can more easily be identified with

the growing network of Transition towns and cities. The meeting focussed on a questionnaire survey designed by Cal which we completed individually before having a general discussion about the way forward. We identified a number of potential working groups including transport, energy, education, food and awareness raising. It was agreed we would need a new logo and website and an autumn programme of events.
Worcestershire Volunteers Day – Thursday 13 August 2009 11am – 4pm The Guildhall
Hanna and Robert attended with a One Planet Worcester stand, demonstrating some of Hanna's school material and showing "Peak Oil for Policymakers".
One Planet Worcester meeting Thursday 30th July 7.30-9 pm
One Planet Worcester had a monthly meeting at Guildhall.
The group met new Intern Hanna from Finland working with One Planet Worcester for this summer.

Cal reported about the Worcestershire Transition Groups meeting at Bishops Wood she and Robert attended earlier this month.

Ray explained the idea of Worcester Abundance following the Sheffield Abundance.

We watched a recent BBC programme called "The Future of Farming" in the Natural Earth series about permaculture.
Discussion continued after the meeting in the Pub.
See you all next time and all the new people welcome as well!
Meeting of Worcestershire Transition Groups 21st July
Robert and Cal from One Planet Worcester group attended a Worcestershire Transition Group meeting at Bishopswood centre.
There were representatives from Malvern, Bromsgrove, Bewdley and Worcs. Unfortunately Evesham couldn't make it because it clashed with their meeting.
According to attendees it was interesting to see what other groups throughout the county are doing.
Ideas of new events also came up, so do not forget to visit our up coming events regularly!
___________________________________________________________________________
One Planet Worcester at Warmer Worcester and Redhill PS GreenER events on 14-15th July
One Planet Worcester had a stand at the Guildhall on Tuesday 14th July at the council's Warmer
Worcester launch event.
The focus was on the results of the thermal imaging over flight of the county this spring – to see how much heat is leaking from your home visit Warmer Worcestershire and put in your postcode.
Our stand featured a display put together in just a few days. It was designed to make people aware of the power consumption of ordinary household appliances and generated some good discussions.
Sally and Robert from One Planet OWrcester group took the display on to Redhill Primary School GreenER event on Wednesday 15th July where pupils and parents played with it too. The thing was that some of the pupils knew more about the issue than their parents!
The GreenER event was planned and coordinated by the children and was inspirational and a real credit to them. The school has just been awarded the coveted Green Flag award.
Peak Oil and Transition presentation 27 June 2009
Robert gave an illustrated talk to the AGM of the Worcestershire branch of CPRE, highlighting the need to build a resilient local economy and encourage local food production.