Home » Events, Food
Apple Pressing 2016: in numbers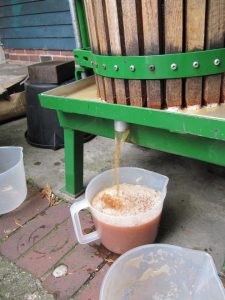 Transition Worcester's 2016 programme of apple pressing events has now drawn to a close. Here's a summary in numbers:
14
: juicing events held at locations in and around Worcester.
155
: people who brought their apples and pears for pressing.
400
: people visited us at half term events to see the press in action & sample juice.
2063
: litres of juice pressed in total.
1700
kg:  apple waste going to feed some very happy pigs.
£548
: donations received, all of which goes into running Transition Worcester activities, including maintenance of the apple pressing equipment and insurance.
10
: additional users who hired out the apple pressing equipment for their own use.
A lot
: of home grown apples pressed into delicious juice instead of going to waste!
Thanks to all our volunteers and customers who supported us. See you next year!