Home » Events, Transport
Get on your bike for Bike Week 2012
It's Bike Week again! This annual campaign, which runs from 16- 24 June, is about encouraging all of us to get pedalling. Going by bike is great aerobic exercise and being outdoors also keeps you in touch with the seasons, the natural world and makes you less likely to suffer mental or psychological ailments. It has the added side-effect of being extremely low-carbon and very much cheaper than anything else except walking.
The Worcester Cycle Map shows the walking and cycling routes in Worcester, including on road routes that have been recommended by local cyclists. If you'd like a free paper copy, call the Worcestershire Hub on 01905 765765. You can also plan a cycle route using Transport Direct's online Cycle Route Planner.
Transition Worcester is organising some led group bike rides which allow you freedom to see the sights, smell the air and chat with others while cycling, making it a group activity. This is a feature  of Transition - getting people together doing something low-energy, low-cost and fun that also protects the environment in a life-changing way.
The Transition Worcester bike rides will go to WestFest in West Malvern on 14th July and the Lower Smite Farm open day on 29th July – watch the website or our Facebook page for more details. Basic details can be found on our Poster.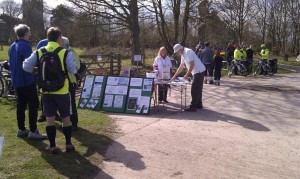 Transition Worcester cyclists arrive Croome Park following a led ride there in 2011.