Home » Events, General, Raising Awareness
Do you have an opinion on the future of Worcester?
On Saturday 26th May, Transition Worcester will take over the new Hive, the Library and History Centre recently built on The Butts. Are you interested in the future of Worcester? Come and have a chat about your ideas and thoughts with Transition Worcester. We've got the Hive for the day (so it's a chance to see some of it before the official opening!) and will be hosting informal discussions in drop in-drop out groups, looking at the future of the city.
This is our big event of 2012 and we hope that lots of people will come along to generate projects and a focus for Transition Worcester over the next few years. Discussion topics will range from food, transport to anything else you may be interested in!
Come along from 10am or 1.30pm, each session will start with a short film screening to set the scene and then you can stay as long as you like. In addition to the film screenings and discussions, we will also have displays you can browse. You don't have to stay all day though!
We are asking people to book into a film screening (either 10am or 1.30pm) – Please use the booking form below to register for this event.  For further information either email transitionworcester@gmail.com or phone 01905 722056.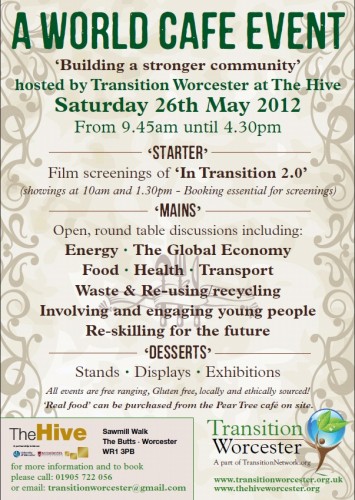 Registration Form