Home » General, Raising Awareness
Introducing Transition Droitwich!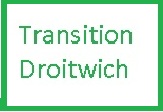 We have been really pleased to support a fledging Transition group over the last few months – Transition Droitwich!
Hearing of a new Transition town being set up is always exciting, but to have been able to support the founding members of this group has been a real privilege. The group is gaining ground quickly and there is definitely the appetite for such a group in the Droitwich area.
Do you know someone who lives in the Droitwich area? Or perhaps you live there yourself, and have been wishing there was a more local Transition town movement? The group won't have public meetings for a few months yet but would really appreciate help with setting up the group. There are lots of different tasks in different areas and everyone has skills that they can bring to the table. Please get in touch with Neil Franks (01905 778735 or 07515287741) if you are interested in finding out more – and watch this space, we'll try and post on the development of the group at regular intervals.
One of our members with family connections on the Isle of Man is also going to attend a meeting with members of the Transition group there in the Spring (whilst over there for family reasons), to help the Isle of Man group refresh and re-group. One of the key elements of the Transition movement is to help other groups (whether old or new), so we are really excited about being able to develop this area of our work.