Home » Transport
Town Planning and … Cycling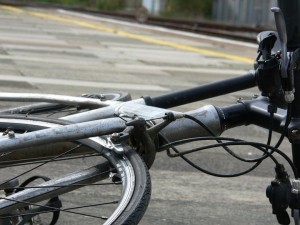 Transport planning is decided within the realms of local and national government within a  long timescale of 5-10 years, so knocking on the door with a request to put in a new cycle lane is not going to meet with any hurry to do anything. National policies lead into local policies which lead into local plans. These get or don't get treasury funding, plus there are housing plans and developer proposals to be dealt with.
On the whole, there are a lot of plans for transport infrastructure – many of which were committed to, and funding earmarked, several years ago.
 Priorities have been set to encourage both walking and cycling. After people with disabilities cycles and walkers are supposed to get the 2nd highest priority in road design. Indeed, when you add up all the signs, street furniture, asphalt and paint related to cycling, you can see cycle related things nearly everywhere in town. However, it is mainly aimed at warning motor traffic that cyclists exist, the lanes themselves are very patchy and do not allow you to go where you want to go in a direct line.
On the positive side there are several routes from outside Worcester which bring you in through some suburbs, such as Lower Wick, Hallow, Henwick and Perdiswell, and an "orbital pedway", from St Peter's around to Warndon. It's quite good for a pleasant leisurely ride around the suburbs, but not from where you live to where you work – which would cover 2 out of the daily average of 3 trips we generally take.
The good news is that there are plans to run 3 new cycle routes!
City Walls Rd to County Hall – via Wylds Lane and Perry Wood
Arboretum to Warndon & Trotshill, via Tunnel Hill and Gorse Hill
Broadheath to Sabrina Bridge
These are some of the aspects of Sustainable Transport inWorcesterthat we shall be covering in our next meeting on 20th October. Please come along…