Home » Raising Awareness
'The Power of Community' Film Screening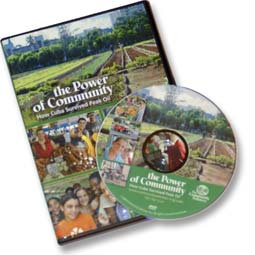 Transition Worcester working with the University of Worcester Film Society will be screening 'The Power of the Community' on Tuesday 29th June beginning at 6pm at the University of Worcester.
When Cuba lost access to Soviet oil in the early 1990s, the county faced an immediate crisis – feeding the population – and a ongoing challenge: how to create a new low-energy society.
The documentary-based film tells the story of the Cuban people's hardship, ingenuity and triumph over sudden adversity – through cooperation, conservation and community, told in their own words. As the world approaches Peak Oil, Cuba provides a valuable example of how to successfully address the challenge of reducing our energy use.